HSA Votes Pro Rep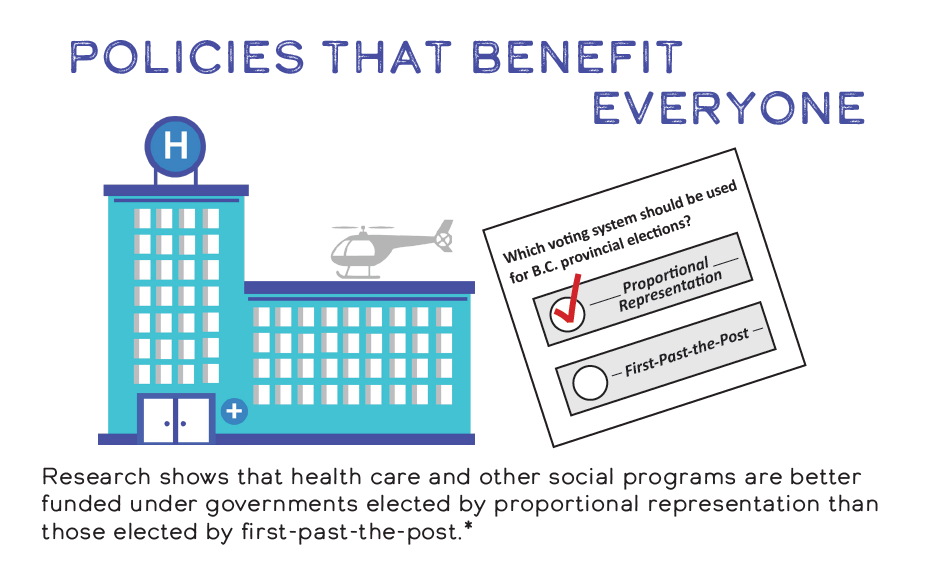 *** UPDATED DEADLINE INFORMATION - DEADLINE EXTENDED TO DECEMBER 7
As a result of rotating strikes at Canada Post, the deadline for voters to return their voting package has been extended. Your completed voting package must be received by Elections BC by 4:30 p.m. December 7, 2018. You can return it:
This fall, British Columbians will have an important choice to make. In a referendum taking place via mail-in ballot from Oct. 22 to Nov. 30, voters will be asked which electoral system should be used to decide B.C.'s elections - First-Past-the-Post or Proportional Representation. In a second question, voters will have the option of ranking in order of preference three proposed models of Proportional Representation: Mixed-Member, Dual Member, or Rural-Urban Proportional. 
Proportional Representation, or Pro Rep, is an electoral system whereby the seats obtained in the legislature are  proportional to the total number of votes a party receives. Under B.C.'s current First-Past-the-Post model, there are often discrepancies between the amount of support a party receives at the ballot box and the number of seats it is awarded in the legislature. "False majorities" often result, meaning parties obtain the majority of seats in the legislature - effectively achieving 100 per cent of decision-making power - with a minority of voter support. In extreme circulstances, First-Past-the-Post systems can result in a party winning government without winning the popular vote, as seen in the B.C. 1996 election and the most recent U.S. Presidential election. 
In the 2017 election, both the BC NDP and the BC Greens committed to hold a referendum on the question of Pro Rep. From November 2017 to February 2018, one of B.C.'s most successful public consultations was held. The province recieved over 90,000 questionnaire responses regarding Proportional Representation and electoral reform. From that public consultation, Attorney General David Eby produced a report recommending British Columbians vote on three systems of Proportional Representation that would respect four features British Columbians requested through the public consultation: proportionality, simplicity, local representation, and a similiar legislature size.
Extensive global research highlights the value of proportional repsentation systems. A look at the evidence reveals that democracies with Pro Rep systems spend more on social programs and have higher rates of voter satisfaction, greater representation of women in legislatures, and higher rates of youth voter turnout. As a result, Proportional Representation is an important step forward in strengthening our democracy and producing fairer election results. 
This referendum, every vote counts. Here are five things you can do to support the campaign for Proportional Representation: 
Sign an I Support Pro Rep pledge card
Request an HSA Votes Pro Rep toolkit 
Sign up 5 HSA colleagues to support Pro Rep with the HSA pledge card 
Take a selfie with HSA colleagues and pledge cards
Invite an HSA speaker to your chapter meeting
Learn more about how to get involved! 
Important Dates

Oct. 22 to Nov. 2 - voting packages are mailed to registered voters 
Tuesday, Nov. 13, 7pm-8pm - HSA webinar 
Tueday, Nov. 20, 6pm-9pm - Get Out the Vote call night at HSA Headquarters 
Fri., Nov. 23, midnight - deadline to request a voting package from Elections BC

!!! UPDATED DEADLINE INFORMATION !!!


As a result of rotating strikes at Canada Post, the deadline for voters to return their voting package has been extended. Your completed voting package must be received by Elections BC by 4:30 p.m. December 7, 2018. You can return it:
Register for Understanding Proportional Representation: A Webinar 
HSA is excited to host exclusively for HSA members Understanding Proportional Representation: A Webinar. We will explore the benefits of Pro Rep and examine the three different Pro Rep systems being proposed in the referendum. We'll present global research surrounding proportional representation systems, with a focus on how Pro Rep can improve our democracy and support better health care and social policies. The webinar will include a Q&A.
Two slots are available:
Wed., Oct. 24, 7:00pm-8:00pm
Tues., Nov. 13, 7:00pm-8:00pm
Registration is free, but please note that space is limited. Spots will be allocated on a first-come, first-served basis.
COMPLETE THE SHORT ONLINE REGISTRATION FORM. 
Not able to attend the Webinar? You can watch the presentation here. Enter the password: aYMbfKu4. 
More about HSA Votes Pro Rep
A 2018 HSA convention resolution was passed calling on HSA to support the referendum campaign for proportional representation in B.C. and educate members of its benefits.
To help garner support for Proportional Representation, HSA has launched an I Support Pro Rep pledge card and accompanying HSA Votes Pro Rep toolkit. HSA members are encouraged to sign a pledge card and invite fellow members to sign cards too! Through the pledge cards, we will follow up with members and make sure they are equipped with the information they need to vote. 
The HSA Votes Pro Rep toolkit has been designed to assist members in speaking with their co-workers about Proportional Representation and the referendum. In it you will find:
You can view HSA's Pro Rep presentation slide deck here. 
Request a Toolkit! 
To request a tool kit or additional pledge cards please email Sam at sponting[at]hsabc.org. You can also email Sam if you would like to invite a speaker from HSA to deliver an educational presentation on Pro Rep at an upcoming HSA Chapter event.
How to submit completed pledge cards

Bundles of completed pledge cards can be mailed to the HSA head office. Members are entitled to a full reimbursement of all postage costs.  Submit a completed HSA Expense Form with a postage receipt to receive reimbursement. Please submit multiple cards in the same package to keep postage costs low. Pledge cards must be put in the mail on or before Thursday, November 15. 
Pledge cards can be mailed to: 
Health Sciences Association c/o Sam Ponting
180 East Columbia Street, New Westminster, BC, V3L 0G7
Get on the voters' list!
 Are you new to B.C., or have you recently moved? Make sure you are on the voters' list by updating your voter information and registering to vote. You can do so by visiting: https://elections.bc.ca/register-to-vote.
Additional resources
Articles