Stomp Out Period Poverty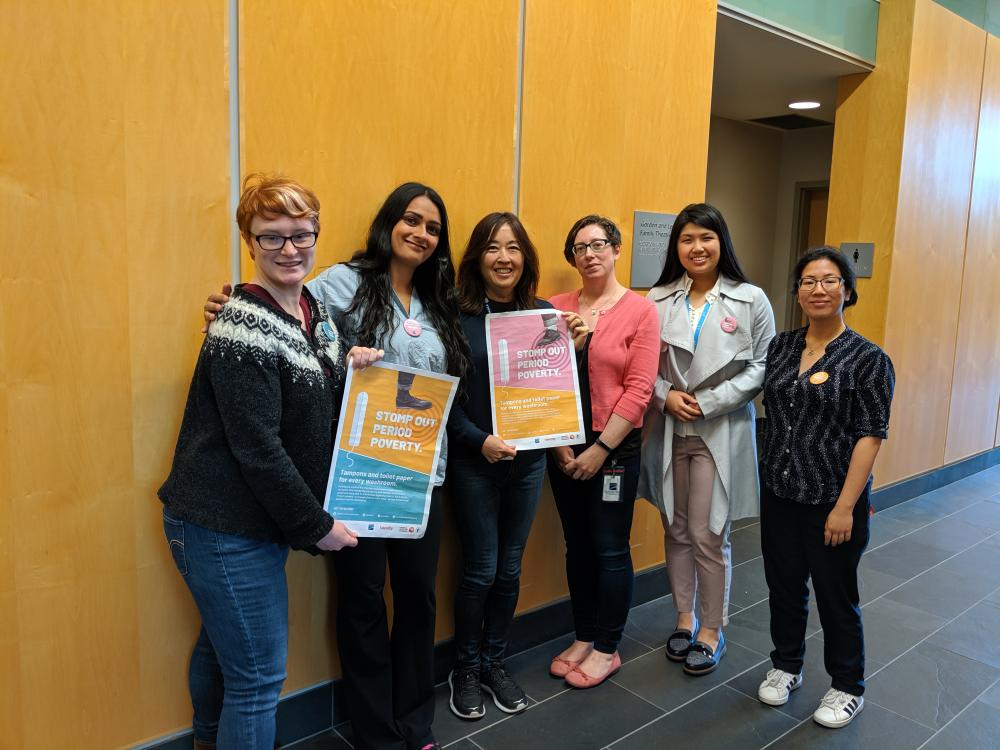 TAMPONS AND TOILET PAPER FOR EVERY WASHROOM: TOGETHER WE CAN STOMP OUT PERIOD POVERTY
Nobody should have to pick between feeding their family and being able to afford basic hygiene products. Yet, for too many people in our communities, access to menstrual products is a real challenge.
Our friends at the United Way have done the research: half of everyone who menstruates in BC have struggled to buy products at some point in their life. More than a quarter have gone through a period without having menstrual products whatsoever. 
The good news is that there's a growing movement to make menstrual products accessible and reduce the stigma surrounding periods. 
That's why, in 2019, HSA launched the Stomp Out Period Poverty campaign – an opportunity for members across BC to organize local worksite actions in support of menstrual equity.
---
PROGRESS IS HAPPENING!
HSA members have campaigned to stomp out menstrual stigma, highlighting connections between access to menstrual products and the stigmatization of periods. At the same time, members have held collections drives for menstrual products, in partnership with the United Way, for local community organizations. The response was incredible. Across the province, HSA has collected over 200,000 menstrual products.
This May,  through the continuing leadership of the HSA Women's Committee, HSA members will be continuing the work of organizing Stomp Out Period Poverty campaigns in HSA worksites and in our communities.
All public schools in BC have menstrual products available in washrooms, so that no student will have to miss school due to the financial cost of their period. This initiative has increased youth access to menstrual producrts and improved equity in BC's public school.
However, there's still more that needs to be done. Menstrual products are basic hygiene items that should be available in every washroom, just like toilet paper.
---
JOIN THE MOVEMENT
Many chapters already participate in this campaign, but we are always excited to see more chapters join the movement for menstrual equity.
Are you interested in joining the movement? An HSA organizer will support you in planning a campaign at your worksite. Local actions could involve running a donation drive, hosting a chapter meeting, or facilitating discussions about how to stomp out period poverty.
For more information about the Stomp Out Period Poverty campaign, to get involved, or to connect with an HSA organizer to begin planning the campaign at your worksite, please email periodpoverty@hsabc.org. You can also call the HSA head office and ask to speak to an organizer at 1-800-663-2017.
Would you rather just make a donation? Click here to make a donation via the United Way as part of our 2023 campaign.
Together, we can stomp out period poverty!